Our History
Recently, one of our members asked about the origin of Engraving Etc. (EE) and how my fellow moderators and I first came to know one another.
To adequately answer that question, I had to reflect on my early involvement with the internet, which led to the brief history of our site, as follows:
In 1999, I was new to the internet. Businesswise, other than my long-standing mainstay of engraving, I was involved with monochrome laser sublimation and a novice to full color ink jet sublimation.
I wasn't aware of search engines at the time and found myself throwing darts, trying to find engraving-related sites.
After some digging, I came across a defunct incarnation of the Awards & Engraving (A&E) Magazine forum, where, after fumbling around for a while, I came across a message pertaining to a sublimation survey.
A link to Delphi Forums, led to my discovery of the Dye Sublimation & Specialty Imprinting Forum (DSSI, now our sister forum).
Unlike the dormant A&E forum, DSSI was absolutely on fire!
The rampant activity disguised the fact that DSSI was a newly-formed site and only in existence for a few months.
Through reading archived posts, I learned that before I came along, DSSI's founder, Michael Knight (no relation to Geo. Knight Co.) had passed away from cancer. Cherie Derrick and Marianne Becktel, picked up the torch and ran with it, creating the internet's premier meeting place for the dye sublimation community.
Being a natural-born introvert, and not inclined to actually post a question, I scoured DSSI messages, looking for information pertaining to my full-color sublimation questions.
I didn't find the answers.
As with any online forum, there was an obvious "core group" and although I was on the brink of posting a question, I was nervous about doing so, because I felt I would be intruding on their conversations.
Necessity became the Mother of my first-ever post; I had questions and knew these people would have the answers.
I don't remember what that first question was, but the answer came quickly, with a hearty "Welcome to The Forum!"
With a life-long interest in creative writing, and the ability to express myself, much better in print, than the spoken-word, I'd found my platform.
From that point on, they couldn't shut me up! :-)
Inspired by the popularity and success of DSSI, with the encouragement and assistance of Cherie and Marianne, I kicked off Engraving Etc., in November of 2000, on Delphi Forums.
Engraving Etc. wasn't an instant success. Being a new forum, with very few members, I began writing editorials and posts designed to evoke responses, just in case anybody came by.
Harvey Lentchner, was one of the early members. I came to find he was the inventor of LogoStar, which was a ground-breaking (engravers) logo conversion program in its day. I was duly impressed!
Harvey's enthusiasm for EE and his willingness to share technical information about our industry, made him invaluable to the site. At that time, there weren't enough members to warrant an assistant moderator, but Harvey and I had bonded.
As we began to grow, there were times when I'd be away. On those occasions, I'd turn the reigns over to Harvey and Dave Loda, a friend I'd made through DSSI.
By 2003, Delphi Forums was going through some changes and with a limit of 16 folders, for various topics, we'd outgrown their format.
With a fondness for the frame-based Delphi forum software, Cherie and her husband Terry, through research, discovered Beehive forum software and decided to move the DSSI forum to Beehive Forums.
Since DSSI and EE had always been closely-linked, with many cross-over members, I was invited to come along.
To be free of Delphi Forums' rules, with a familiar forum software and an unlimited number of discussion folders, made my decision a no-brainer.
Of course, leaving Delphi, after generating valuable content, wasn't going over well with the EE forum members.
When I made the announcement of our upcoming move, David Takes saw the logic in the decision and was the first to "Rally The Troops" in developing enthusiasm for the move. He encouraged people to get behind the move to an even better forum.
Then, as now, David Takes was an EE "Star Performer."
Having to start over again was difficult, but we weren't starting from scratch. We had attracted a healthy number of EE fans and I began importing what I felt were interesting topics from the Delphi forum to our Beehive forum.
Interestingly enough, even though the lead-in posts were identical, the ensuing responses were much different than the original responses.
Knowing I would need Harvey and some enthusiastic key people at my side, I approached David Takes with an invitation to become a co-moderator. It wasn't a hard-sell. David accepted the offer immediately.
David has since become too busy to be a full-time moderator, leaving Harvey and I as the site's moderators, although David remains one of our active MVP's.
Since its humble beginnings, Engraving Etc. has taken on a life of its own, in attracting well known people in the industry and garnering the attention of industry suppliers.
Through the generous contributions of time, talent and knowledge, on the part of our standout members and all who actively participate, Engraving Etc. is sure to enjoy a vibrant future as the internet's premier meeting place for the awards and engraving industry.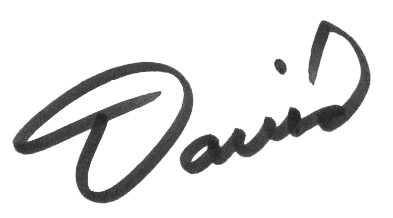 David Lavaneri
Engraving Etc. Founder and Host